"In the spring of 1870, John Curtis and family moved from Harbour Grace, Conception Bay, to a small island on the Northwest side of Hall's Bay. Little did he know then that he had begun laying the foundation for a community which would, with time, become the service centre of Green Bay. It was with this one act, the settling of an island 100 meters offshore, that Wolf Cove (present day Springdale) had its origins."
Springdale from Boyles Hill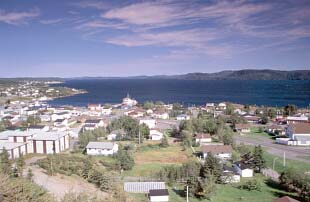 "In his guest for survival and a better living, Mr. Curtis took advantage of the abundant wood supply in the immediate region and erected a mill on the island'. Mill Island, as it was to be christened, was ideally located facing the mouth of Indian River. To obtain a supply of logs, all he needed to do was float them down river and out to the mill site. Since there were vast stands of pine in the vicinity and these trees were easily accessible, other frontiersmen were soon to follow. In 1873 Nicholas Peters, a millwright from Harbour Grace, and Joseph Blackler, from Twillingate, came to work at the mill. Eventually, Mr. Curtis had the need to expand his business, and two brothers, George and Joseph Clarke, bought shares in the mill. This partnership was known as Curtis and Clarke. During 1890 however, a fire destroyed the mill and all was lost. As a result of the blaze, John Curtis and many of the mill employees decided to seek employment in other parts of Newfoundland. Those who remained, however, were undaunted; they were not giving up so easily. Realizing a good living could still be made, Mr. George Clarke and his brothers purchased the remains of the island mill and erected a new one on the nearby shoreline. The mill was not the first structure on the land which now is Springdale. Mr. Joseph Blackler was the first person to build a home here. While the Blackler house was under construction, his wife noticed a bubbling spring of water nearby. "My blessed Lord, Joe. We don't have to worry about water," is said to have been Mrs. Blackler's exclamation on mak-ing her discovery. This spring eventually became the water supply for all residents, and in 1897 the people decided to rename their small community Springdale. The spring was located in a little dale along the shore. "

Excerpts from Moments in Time, (Green Bay Economic Development Association 1994).