"Nestled in the hills, protected from the violent winds and sea, the area that is now the community of Triton provided much encouragement to those who first decided to make this island their home. Believed to have been settled in the 1820's, the town received its name from the Triton, a ship which once anchored in the harbour. Passengers and crew-members from this vessel decided to stay ashore in this safe haven.
Triton West from the harbour.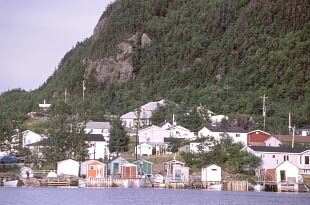 The first area of the community to be inhabited was Vincent's Point in Triton East. This region was named after William Vincent, one of the early residents. It is uncertain who the earliest citizens actually were, but reports indicate that Moses Jenkins, Arthur Linfield and Ozzie Roberts were also among the first to arrive. George Vincent, eldest son of William Vincent, is considered to be the first settler of Triton West. Another early resident, George Simms, landed from Nimrod, England and part of the community was named Nimrod in the 1800's. The adjoining communities of Jim's Cove and Card's Harbour were later settled by members of the Card families. In 1874 Triton East and West had a population of 64, and this number grew to 173 by 1901. Card's Harbour was first accounted for in the 1901 census with 45 inhabitants. Jim's Cove was not mentioned in any polling until 1911, reporting 17 residents. By 1945 there were 109 inhabitants of Triton East, 241 in Triton West, 75 in Card's Harbour and 112 in Jim's Cove. "

Excerpts from Moments in Time, (Green Bay Economic Development Association 1994).